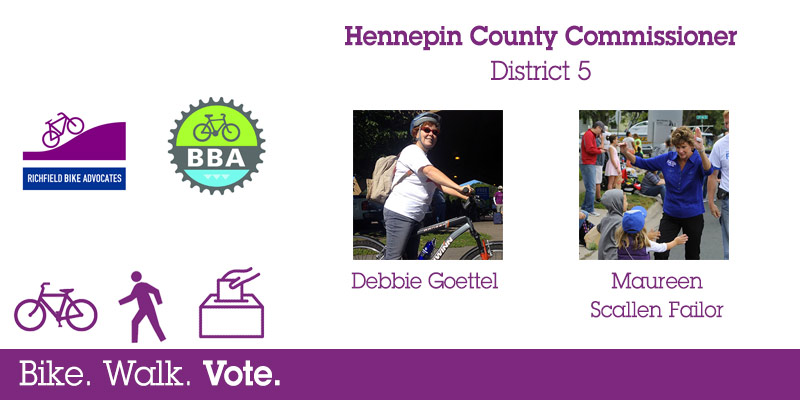 Question

Do you ride a bicycle? If so, what kind of riding do you do? (e.g., for errands, to work, for exercise, for recreation)
I do ride a bike, much of the time it is for pleasure, occasionally I combine an errand or meeting with a bike ride. When I have time, i.e. non campaign year, I like to go find trails and spend part of a day out riding and viewing scenery.
For the last nine years I have attended spin classes at Lifetime Fitness. I go to 2 classes a week. I do have a bike that I use on occasion.
Do you walk on streets and sidewalks near your home? If so, what are you walking for? (e.g., for errands, for exercise, for recreation).
I walk all the time, I walk around the neighborhood and to locations close to the house. I walk to restaurants, stores, friends' homes and out door knocking for campaigns.
I have been doing a lot of walking in the cities of Bloomington, Eden Prairie and Richfield while I have been campaigning. I also do a lot of recreational walking in and around Bloomington.
Do you use mass transit? How?
I don't use mass transit much due to my job change. When I do use it is for going downtown to a game or to the State Fair. This is the best alternative and with this option I would never think about driving.
I have used mass transit. When I attended Holy Angels Academy in Richfield we took the MTC bus-Route 18 every day. While I attended the University of Minnesota I used the Express service-Route 52 daily. My family also uses the bus service every year for the Minnesota State Fair and has found it to be outstanding and efficient.

Since the majority of the work requires an automobile I do not use mass transit as much. When I do need to be Downtown Minneapolis for meetings and for day long events I will use the Blue Line over the MOA/Park & Ride facility.

Has Hennepin County been successful in creating streets that work well for pedestrians and cyclists? Provide some examples local to you of things that work well or poorly.
Yes and no. Newer streets that have recently been reconstructed have great access for pedestrians and for bikes. Older county roads do not have that access, such as 66th Street in Richfield. As we reconstruct our county infrastructure we need to take a multi-model approach and with a green/complete streets set of priorities. I also advocate for local control and input into street redesign.

Bike paths should be installed at roundabouts, this was recommended by several third party consultants and I agree with assessment. Bus stops should be moved off the roundabouts as well. Pedestrian crossing need to be moved further down and off the roundabouts so that drivers have time to react and have a clear visual of pedestrians. This is more of a problem in two lane structured roundabouts where a car next to another car and obstruct the vision of a pedestrian.

Older county streets that run through our towns do not have adequate sidewalks, boulevards, bicycle lanes or paths. Examples of a poorly performing road would include 66th Street in Richfield. 66th Street has narrow sidewalks up against the roadway. The sidewalks in some parts of the city are uneven and deteriorating. There are no boulevards for snow loads in the winter. The snow is plowed onto the sidewalks. When the sidewalks are cleaned there is a layer of ice that sometimes is there all winter long. 66th Street is considered and incident reliever for crosstown. This is more than a reliever, every evening the congestion builds on crosstown and the traffic dumps onto 66th Street. Bicyclists have to be on the road with cars and a great deal of congestion. It is very unsafe for pedestrians and bicyclist on parts of this road.

As the county is looking at rebuilding the infrastructure of county roads they have brought in a new model of wider accessible sidewalks, bike lanes or paths and in some cases narrowing down the roads, (4 lanes to 3 lanes) to slow traffic and bring back the neighborhood feel to streets with boulevards and trees.

The county is allowing a great deal of city input into the reconstruction projects and cities are taking on complete streets policies and green streets policies when reconstructions happens. Streetscaping matters to the feel and identity of the neighborhood. Streetscapes also help calm traffic. Residents are more accepting of the disruption of reconstruction if they are a part of the project from inception. Public input is a necessity.

An example of a road that works well is 76th Street across the city of Richfield. This road was narrowed and adequate sidewalks were installed. There are boulevards for snow and a buffer to the road. On one side of the street there is a bicycle path. On parts of the 76th street there are cutouts for on street parking. Neighborhoods were allowed to discuss and vote on some of the street scape options. This was an inclusive process.

Yes, in some cases.  Simple successes have come from street restriping where the County converted 4 lane undivided cross sections to 3 lanes with shoulders.  The shoulders keep autos away from curbside and may be used by bicyclists as a place to be outside the travel lanes.  This was done at many places including Douglas Drive/CSAH 102 in Golden Valley.  By making the shoulder and moving autos away from the curb, the pedestrians on sidewalk right behind the curb now have a buffer (shoulder) between them and the moving traffic.

Portland Avenue/CSAH 35 in Richfield was recently reconstructed from a 4 lane undivided cross section to a 3 lane section with a shoulder/bike lane, plus the sidewalk was moved from the back of curb.

We can learn from these examples to create streets that work well in our district. Anywhere a sidewalk is right behind the curb and traffic is along the curb, the pedestrian feels uncomfortable.  This condition exists on many county roads in our district.  The County's work on CSAH 53/66th Street is going to convert a challenging condition into one that is good for both pedestrians and bicyclists.

How much should local preference factor into County road projects? Is it more important that the County have a universally accessible road system, or that those roads reflect the values and goals of the local community/neighborhood?
Most cities have already gone through a review of street redesigns and the planning commissions have outline in detail the desires of the city and residents with respect to reconstruction of streets whether they are city or county. Counties have also adopted similar criteria for assessment of roads. They do research the width for the road and capacity and them look for ways to also include and accommodate pedestrian and bike and buses. These are adopted standards for cities and counties. What is clear in the review is that most of the time the alignment is there. Where there is not alignment I believe should be a conversation with city staff, commissions, residents of the area and the county. Most of the time these are easily resolved and the county is flexible in letting the local city have a great deal of say in how a road system is reconstructed.

Where problems occur is when Federal funding is involved with old and antiquated requirements that do not allow for flexibility. Others issues are around design standards such as roundabouts and where to place bus stops and cross walks. I have not experienced any impasse between the county and city and feel that the county does let the city, most of the time, have the say in final design. I support this effort.

 It is important to remember that state law gives cities the right/authority to approve improvements to the County State Aid Highways (CSAH's), so the County needs to forge partnerships that satisfy both the County and cities.This is a matter of balancing priories.  Public safety for all is the highest priority.

The County's Bicycle and our Pedestrian Plans identify where biking and walking should be accommodated.  At the same time, the County must refer to similar city plans to assure continuity of plans.  An example of where the county made sure pedestrians were served and bicyclists were sent to a parallel city street is CSAH 22/Lyndale Avenue south of Lake Street where the bicycle accommodations are on Bryant Avenue one block to the west, and CSAH 3/Lake Street where the bicycle accommodation is the Midtown Greenway to the north.

How can the County promote continuity and cooperation between different communities?
The county parks, trails and roadways should be coordinated within the city parks, trails and roadways. The County can act as a conduit for more conversation on connecting trails in the county system but also from city to city. Coordination so the links work is key to having an efficient system of trails, bikeways and sidewalks that work.
The County should continue to start with the Bicycle and Pedestrian Plans of the county and cities.  Generally the city plans are developed through communication with abutting cities so they can compare their plans along the city limits.  The County plans are then offered to all the cities for review and comment so they can compare what they are thinking about the county road corridors.  The next step is to move from planning documents to actual road design with the cities participating.  Public participation is a very important part of the process.

I have met many times to discuss transportation and road issues with city officials, retiring Commissioner Randy Johnson, and Three Rivers Park Commissioner John Gibbs.

How should Hennepin County's capital funds be spent on the county road system? Should it be limited to just the roadway — or should the County also fund sidewalks, trees, and other amenities?
When road reconstruction takes place on a county road the county is not the sole provider of funding. The city where the reconstruction occurs has to come to the table with significant funds as well. So capital funding is divided up. The county does pay for acquisitions, sidewalks, trees and other amenities. Cities also pay for a portion of these. For various financial reasons the county or a city may take on all sideways (example). This may be due to restrictions of grant dollars, federal or state funds that are brought into the project. These parts of the project are negotiated well before final designs are completed. County funds are not limited to roadways only. I would not support a move in the direction of limiting the use of county funds to only the road way.
We should remember that historically in the United States, the first advocates for paved roads were not automobile drivers or automobile manufacturers — but bicycle advocates.

Funding will be spent primarily for roads and public safety improvements. Often these are state and federal funds with requirements and limitations on how they can be use but on County roads, this should continue to include trees, sidewalks and other amenities.

Many county roads have sidewalks that are narrow and do not meet current accessibility standards. Do you believe this needs to be fixed immediately (despite higher cost), or should it wait until it can be bundled with a road reconstruction?
The cities and the counties are still playing catchup from the great recession and this past year is the first year that the federal government has had a transportation bill with funding. States and local governments cannot cover the burden of reconstruction all of the noncompliant sidewalks in the next few years. Residents cannot absorb the tax increases that it would take to make this happen.

To improves sidewalks in many areas would require right of way, coordination with utilities, possible moving utilities and street improvements. Fixing one and not addressing the street and possible bike lanes is not cost-efficient. So how do we move together in a prudent manner? We rate the condition of the road including the sidewalks, pedestrian crossing and need for adequate bike infrastructure. The roads rating highest get priority, rating includes the amount of traffic and expected use before and after reconstruction. This is a good way to prioritize and move forward in a positive manner. If the federal government comes through with subsequent years of transit funding the county, met council and the state can move more projects into the queue.

These are decisions that have to be made on a case-by-case and project-by-project basis.  One example is pedestrian ramps that do not conform to current guidelines.  The County has more than 12,000 ramps and about half conform with current guidelines.  Of course, all the ramps were installed in accordance with prevailing guidelines at the time of installation.  By the time the County completes the ramps that need to be updated, there will probably be guideline updates that will technically put thousands of ramps out of conformance again.

As to the sidewalks themselves, the County has identified locations that are out of conformance and needs to address those that are wholly inadequate first.  There are degrees to which the sidewalk is in or out of conformance, as you might expect.

Although most road users get along well, the increase in bicyclists using county roads has created some tension. Why do you think this is? What can the County do to alleviate this?
More education is part of the solution to the tension on the roads. But it cannot be stressed enough that bicyclists must also obey the rules of the road. Cities have already taken this on with bicycle safety camps in the summer. The state needs to update the license study book to include more information and questions regarding sharing the road as it pertains to pedestrians and bikes. The county can and should improve signage where ever possible and promote pedestrian crossings with more visible signage. Working with cities and the state is key to have a comprehensive strategy as we move together into a more bike and pedestrian friendly future.
Bicyclists may use the streets and roads and are recognized in law as being able to do so.  Bicyclists wish to travel the same routes as vehicles without having to detour from desired path lines.  That desire places bicyclists on some very busy streets where they have to share the road with vehicles.  Lake Street and the Midtown Greenway offer a good example where the County decided there was not room for bike lanes, and the Greenway is only a block away.  Many bikers believe they were neglected by not putting bike lanes on Lake Street and have been vocal about their disappointment.

A different level of tension is created where the County offers designated space for bicycles with buffering between the bike lane and travel lane. Most bicyclists want protected bike lanes.  But this is Minnesota, and it creates problems in the winter with snow removal when physical barriers exist.  Many bicycle advocates want to have separate off road bicycle paths (cycle tracks) constructed so bicyclists can feel more comfortable as they bike along a corridor.

We need to ask whether or not a corridor should specifically serve either pedestrians or bicyclists, and if yes, what is the best way to do it.  Generally, walking is a more common form of exercise and movement, so the County should try to answer that question first and then focus on bicycling.

In all of this, we need to help educate everyone — bicyclists, pedestrians and   automobile drivers of the importance of public safety.

Are you supportive of protected bike lanes on major streets, even if that means acquiring more right-of-way? (Protected bike lanes or "cycletracks" are bike lanes physically separated from the driving lanes.)
In some circumstances acquiring the right of way for a complete street that includes not only room for bikes but buses, cars, and pedestrians in a good idea. I prefer traffic studies that allow four lane roads to go back to three lanes. We have less right of way acquisitions and produces slower vehicle traffic on the road making it safer for everyone. In some places the protected bike lanes are a great idea. Again we have instituted them in certain areas in the city to protect bike traffic from cars. I am for safe routes to schools and safe routes to nodes and work places. We need to look at all cases and use the tools in the tool box to make sure we are making choices that improve the safety and experience for everyone sharing the road.
This will become a much more frequent question as more people choose to use bicycles.  We must consider both pedestrians and bicyclists.  Right of way needs factor into the discussion of how to make proper space for the users expected along the corridor.  Again, this goes back to the County's Bicycle Plan and Pedestrian Plan to guide the discussion and decision-making process.  Assuming biking is to be part of the corridor, the idea of right of way needs starts with the goal of limiting acquisitions.  That means the County should start with what is the narrowest safe cross section for all users and analyze that carefully.  If that analysis concludes that there is a need to acquire, the next step is which alternative minimizes the need to acquire private property.

One example of the way the County should seek to find a way to satisfy the "needs" of the public is how the County provided road bicycle space along CSAH 48/Minnehaha Avenue in Minneapolis — area frequently used by people who live in our district. The County put in concrete parking and bicycle lanes with asphalt driving lanes.  Bicyclists know where their space is and drivers stay out of the space.  Many bicycle advocates favored cycle tracks along CSAH 48.  Although the final design saved many trees, and the final design was quite widely accepted by the public, I am not sure the County made the right decision.

Much of the infrastructure in Richfield and Bloomington is over fifty years old, while much County capital improvement money goes to build new and expanded streets in exurban areas. Is District 5 getting its fair share of County road funding? If not, what can you do as a County Commissioner to improve this?
I am not sure if District 5 is getting its fair share of committed dollars but if projects are the measure there are plenty of county projects underway in Bloomington, Eden Prairie and Richfield. I will have to take a deeper dive into the county budget to determine if sufficient O & M dollars are being spent and how roads are qualified for reconstruction. I know it is a rating process but I am not familiar with the details of the rating system and then how dollars are allocated.

I will be looking at allocation of dollars into District 5 on several levels to see if the needs of the cities of Eden Prairie, Bloomington and Richfield are being met not just infrastructure area. It is important to make sure that the resources that the county delivers to cities are in the appropriate areas and with the appropriate dollars. These will be great conversations to have with the cities and the residents.

I have studied the County budget, but it would take a detailed analysis of road funding over the past ten years and planned funding over at least the next ten years even to begin any kind of "fair share" analysis.  And we must remember that few people confine their personal use of roads to District 5 — and even if they did, they rely on goods and services that are delivered by use of the entire road system in our County, Region, and State.

In Richfield, the County partnered with the city to get Portland Avenue and 66th Street reconstructed, and it has applied for federal funding to do part of Penn Avenue.  If the County gets the federal funding, it will have only the "business district" part of Penn Avenue and Nicollet Avenue left to reconstruct.

In Bloomington, the County partnered with the city to reconstruct a significant portion of Normandale Boulevard.  The County is contributing a significant a significant amount into an access from Bush Lake Road onto westbound I-494.

Serving on the Hennepin County 2040 Comprehensive Plan Committee, I fully understand the importance of long term planning to make this a place where people choose to live, work, study, raise families, build businesses — and ride bicycles widely and safely!