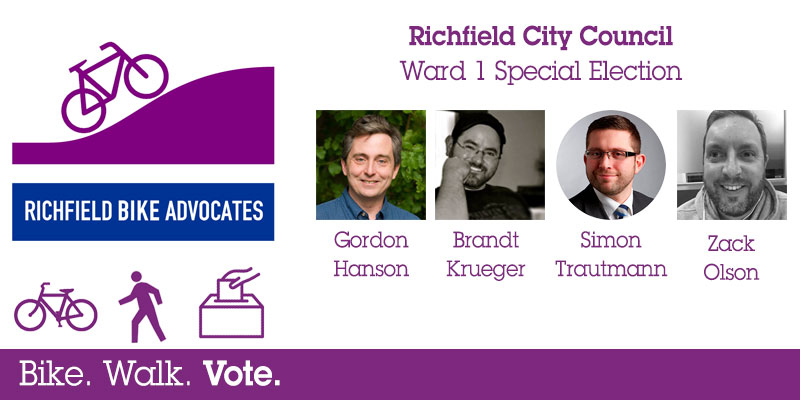 Note: Because Pat Elliott was elected mayor in early 2017, a special election is being held for the remainder of his term. The election will be held on Tuesday, May 23rd, 2017.
Question

Do you ride a bicycle? If so, what kind of riding do you do? (e.g., for errands, to work, for exercise, for
recreation)
Biking is one of my fondest childhood memories. As a kid, I would spread out a map of the Twin Cities and look for lakes, which would become my destinations. Sometimes my journeys would bring me to the shores of lakes, and other times to marshes or dry beds. There was always a sense of adventure in wondering what I'd discover upon my arrival.

In recent years, my biking has been primarily on trail rides on vacations. My son, Jeff, and I took a fun ride on a trail in Algonquin Provincial Park in Canada. The nature trail we rode was amazing. I haven't done as much biking around town recently, but I'd like to start more recreational biking close to home once again.

Not as often as I should anymore, but as the kids get older we're starting to get out more as a family. My wife, however, rides her bike to and from work in nice weather, from Penn all the way down to Richfield Parkway. She's very much looking forward to the completion of the 66th reconstruction.
I own and ride a Specialized Crossroads. I am a recreational rider. Most of my riding is in and around Richfield with my oldest son, Justice. When we bike as a family with my wife Jennifer and boys, it is often to and around Richfield parks and local lakes. With all the improvement for bikers in the city, I hope my children will be able to ride to school some days in safety.
I haven't ridden in years, but am planning to start as my kids are now getting off training wheels. Want to get out on some trails.
Do you believe Richfield is a good place to bike today?
In my opinion, Richfield is making positive steps to embrace biking, but more can be done to enhance the experience. Richfield, of course, was awarded the Bronze Level Bicycle Friendly Community designation from the League of American Bicyclists a few years back. That was a great achievement and showed the positive steps that Richfield is making.

It depends on where you are in the city. Some places are better than others, but once 66th is completed, a major corridor will be significantly more bike-friendly, and that will be a huge boost.

There is great progress and parts of Richfield are exceptional for biking, others are being addressed and are in the bicycle master planning that has been done at the city level.  Our neighboring cities to the south west and north of us are envious of our progress and great areas to bike.  I look forward to what is to come in the next years of reconstruction of 66th street.  We are gaining momentum in Richfield as it becomes increasingly bikeable city, and I support this.
Yes.
Do you believe Richfield is a good place to walk today?
I believe there is both good and bad news in this regard, but Richfield is moving in the right direction.

The good: We have beautiful parks with trails such as Wood Lake, Richfield Lake, Veterans and many neighborhood parks.

The bad: Older sidewalks along arterial streets leave much to be desired. These sidewalks were often placed immediately adjacent to the street. With many of these sidewalks, cars seem dangerously close. Walking in these locations is a tense experience rather than a pleasant one. Fortunately, we are making progress with the recent renovation of Portland Avenue and the current renovation of 66th Street.

I have to admit, not really (at least in our neighborhood). The Penn sidewalk is very close to the road, and there are no sidewalks on most of the streets in our neighborhood. This forces all of us to walk in the street.

Yes and no.  Some of the cities sidewalk systems have had significant upgrades, such as 66th and Lyndale area and Portland Avenue south of 66th street.   Some of our safe routes to schools have also seen sidewalk improvements.  Still many of our major streets have sidewalks that are in disrepair.  I understand the city has performed and audit of all the sidewalks and have been reviewing ways to address the sidewalks in most dire need.  I support us having a long-term maintenance and replacement program for our sidewalks.

Additionally, I would support an audit of our snow and ice removal services for our sidewalks. Infrequently or inadequately cleared sidewalks are can be the most dangerous especially for our older residents.

Yes.
Are you supportive of protected bike lanes on major streets, even if that means acquiring more right-of-way? (Protected bike lanes or "cycletracks" are bike lanes physically separated from the street, such as the bikeway planned on 66th Street)
I believe protected bike lanes on major roads are a good idea. I think they provide a level of comfort for both bicyclists and motorists. Protected bike lanes are a good component in the complete streets concept. I would prefer if protected bike lanes could be added without acquisition of right-of-way, but I would never say never to that as a possibility.
Supportive, but each route has to be judged on its own merits. Would love to see it on most major roads, but there are realities that have to be taken into account as well. Especially after the 66th reconstruction, folks probably will have a pretty low tolerance for the removing of homes or businesses at this point to make way for dedicated bike tracks.
This issue is important to me. I grew up biking in Ward 1 to school. Now that my oldest son is close to the age where he could potentially bike to school, making sure our streets are safe for riders is very personal.

I am aware of the test project on 69th street where the street has a protected lane for bikes and pedestrian.  I am very interested to see the results of the study and data.  Currently I have witnessed many pedestrians using this and only a few bikes.  One of the outcomes is calming (slowing) traffic.  I am always interested in ways to make the streets safer for bike riders and walkers.

As far as cycletracks on all major roads in Richfield I believe we need to move forward on a case by case basis.  Not all roads will lend themselves to protected bike lanes.  Some cases there is not the right of way, some cases purchasing right of way will impact some residents greatly.  We should weight every situation.  Purchasing right of way, while we do that in the city, is costly.   Buying up homes to make cycle tracks on every major road just may not be feasible.  Where we can do some of this we need to be strategic to allow for commuters on bikes to get easy access to major nodes in our city.

I'm mixed on this. As I'm not a bicyclist I would need better viewpoints.
What role should collaborations with Minneapolis, Bloomington and Edina play in our transportation planning?
It's essential that all communities sit down to coordinate routes for all forms of traffic. By working together, we can develop a comprehensive transportation system that best serves the metropolitan region.

Bloomington is apparently looking at Portland as a model for their own reconstruction. It would be great for neighboring cities to coordinate and work together to ensure quality and consistency.

I understand that currently several times a year the city of Richfield transportation staff and staff of our adjoining community including the airport sit down and talk about the transportation plans of each of their respective cities. I think this great.  Some of the traffic calming studies in theses sister cities have been performed and shared.  This is a great help to all cities.  When it comes to redevelopment along boarders and on 494 this all impacts the city of Richfield.

It appears that in some ways Richfield has developed some bike routes faster than our adjoining neighboring cities.  We continue to collaborate and encourage the connections to be completed on a timely basis and open new routes for bike commuters.

By advocating for collaboration with our neighboring cities, we exponentially add value to our bike infrastructure. Collaboration and the sharing of plans on traffic and development is key to our success.

It's needed and should be encouraged.
Are you supportive of additional sidewalks in Richfield? If so, to what extent?
I support enhancing sidewalks routes leading to parks, schools, commercial districts and other focal points. I believe in providing routes so that walking is a viable and safe form of transportation for our residents. I would also support adding sidewalks to streets where motor traffic counts rise due to changes in traffic patterns.

I'm not supportive of adding sidewalks to every quiet residential street. There is a cost to the urban forest with the installation of sidewalks. In some locations that is necessary, but not throughout Richfield on every street. Richfield would be particularly vulnerable to high tree mortality in neighborhoods where sidewalks would be retrofitted.

It's tough, because as I said we don't have any in our neighborhood, and it would be nice if we did. BUT, the lots weren't designed with sidewalks in mind, and there's lots of trees, driveways, and other curbside features that would have to be pulled. Residents of 30+ years, especially those on corner lots, would lose significant portions of their usable land, and would now be responsible for clearing these paths in the winter. So I guess I'd once again say that I support it in principle, but each route would need to be evaluated on its own merits.
There are areas of need for additional sidewalks in Richfield.  We must first address those sidewalks that are crumbling and a danger to pedestrians.  It is a bigger question than just adding and paying for additional sidewalks. I support the city's policy to maintain all sidewalks, with cleaning, plowing and repairs.  There must be careful consideration if sidewalks are added, the question is who will continue to maintain the cleaning and plowing.  Maintenance costs will also go up with additional feet of sidewalk.

This is a community conversation that need to take place.  Many older residents have problems clearing their driveways currently and adding a sidewalk to care for is a burden to some.  Other questions are, where is it that we really need additional sidewalks, who gets to decide where they go? There are many opinions in our community? I would look forward to listening and facilitating a conversation about this as the city expands its sidewalks.

Sidewalks are a good thing, would just depend on the location and impact.
Are you supportive of additional requirements for businesses to provide bicycle parking?
I would support requirements for bike racks for new construction. As a bicycle friendly city, we should require that for future developments. For businesses in existing, older buildings, I would highly suggest they consider bike parking, but not make it a requirement. With many older buildings with limited space, it can become very challenging to retrofit new requirements.
 I don't support the city requiring business owners to provide bicycle parking, however smart business owners would be wise to observe the trend toward bicycle and ridesharing options, especially those situated along bike routes!
Yes, for some businesses. Currently we require a traffic study and parking study for new developments in the city.  Bicycle commuters are usually considered in most of these plans and many businesses provide or are asked by the city to provide ample parking for bikes.  Some even provide showers for bike commuters.  I can see a requirement of certain sized businesses to provide parking for bike commuters. I would encourage the city to benchmark with the League of MN Cities and our neighboring communities on how they approach this issue.
No. This is a choice left to the businesses.
In your eyes, what is the role of real estate development/redevelopment as it relates to walking and biking? Should the city do anything different from the planning end to encourage walking and biking?
I support a biking and walking culture in Richfield. When sitting down with developers, the City planning department should make it clear that we want biking and pedestrian friendly features designed into new developments.

But in addition to designing biking and pedestrian friendly infrastructure, I think the city could initiate more programmatic events to encourage biking and walking. Open Streets at Penn Fest is one example of that type of initiative. For one Sunday afternoon a year, we encourage people to leave their cars behind for a walk or bike ride down Penn Avenue. I would suggest more biking and walking activities throughout the year. Additional activities would be much smaller in scale than Penn Fest, but with greater frequency.

I think we should encourage the installing of sidewalks that are set back from the street as we redevelop areas such as Penn Ave. I was disappointed that in much of the development that has been done so far, the sidewalks are still right on the street. While the area around CVS was widened, just the slightest bit of cushion would go a long way toward making Penn Ave feel safer to walk down. I'm much happier with where it was set back, as it was around Aldi.
Currently the city has standards for development / redevelopment for curb, gutter, sidewalks and connecting bike paths.  Developers are required to provide these in the planning stages before they move forward on their projects.   The city not the developers control the transit and road development.  The city has a comprehensive plan and I think generally plans well for new projects.  I believe on projects of a certain size, are required to make bike connections through or adjoin to their property. I would be open to learning more about this and revisiting it.

Richfield enjoys some of the highest per capita ridership in the metro area of the transit system.  Many people may come to live here to and be car free.  We need to make sure that are continuing to have conversations with Metro Transit and the State as they plan transit for the years ahead.

The city should take into consideration if these paths are disrupted.
You're running to represent Richfield's west side, which currently has fewer completed bike routes than the eastern half of the city. If you could make one improvement for walking and biking in Ward 1, what would it be?
Improving the sidewalk along Penn Avenue would be my top priority, both in the commercial district and residential area. Sidewalks on Penn are the old fashion no-boulevard, next to the roadway type. At some unspecified date, Hennepin County will renovate Penn Avenue and we'll have a chance to improve the sidewalks. I think the City needs to lobby Hennepin County to make renovation of Penn a higher priority.

I would also like to see the Penn Avenue commercial corridor evolve into a more pedestrian friendly area. Achieving this goal is a mix of walkway infrastructure improvements, green space additions and a business mix of consumer-focused shops and eateries. My vision is a district where people stroll the avenue to patronize businesses such as cafes, bakeries, coffee shops and other businesses that add life to the avenue.

I also support urban-style development with buildings toward the street. I think this type of development can enhance a pedestrian culture. I realize we've had some developments with buildings toward the street, but parking and entryways in the rear, resulting in very little street-side activity. I'd prefer designs that encourage more access in front of the shops.

The biggest thing would be to look at the possibility of adding sidewalks in the neighborhoods. It's a thorny issue as I've already stated, but one that goes a long way toward making a neighborhood feel kid (and people in general) friendly. There would be a fair amount of resistance from a certain number of residents, but we should at least begin the discussion. We're currently getting close to having our kids walk to and from school, and one of the biggest things holding us back is the lack of sidewalks. Our street is a bike route, but in this part of town, that's little more than a painted symbol on the road, and doesn't actually mean much.
I have two wishes if money and approval were not in the way.  The first would be to reconstruct Penn Avenue and have some dedicated bike lanes on at least one side.  Improve the sidewalks and keep the three lane configuration as it is striped now.

My other desire is for a significant bikeway to the new Southdale library for easier access, a gate way form the Richfield side as well as the Edina side.  It would be great to see our families biking to great library events and programming.

I take walks around my neighborhood and enjoy the space and parks. I'm all for making our city mobile friendly but needs to align with common sense. I know one specific item would be to reduce the size of the current walk/bike path along 69th street. Many residents have shared the view that the path as it stands is too wide and is a safety concern not only for motorists but for residents.