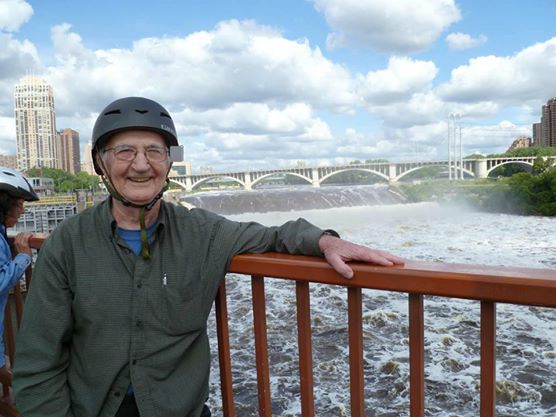 When I retired in 1985, the first thing I did was check in at Freewheel Bike on the West Bank and ask for the best touring model they had. It was a Trek 620 with all the trimmings. I began a series of tours to St. Louis, Madison, and San Francisco departing each time from my home in Richfield.
In the late eighties the trickiest part of the ride was getting out of Richfield and the Metro area. Once on the rural highways it was clear sailing. Now one can connect very easily on the new Regional trail on 76th and soon with the southern connections through Bloomington.
But alas now my touring days are over. I ride with the Richfield Senior Bike Group on the extensive Metro bikeways. Most seniors prefer off-road bikeways and rail trails so every week we ride for several hours around the lakes and along the rivers. We start at trailheads, staying off the major thoroughfares. Richfield has an unlimited number of safe streets but could use more striped routes to guide recreational journeys for all ages.