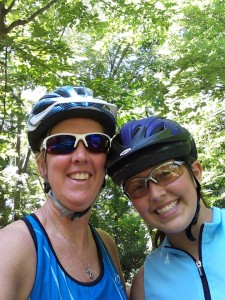 I bike Richfield for many reasons. I bike for transportation, recreation, exercise, and mostly for enjoyment. When I was a kid, biking meant freedom. I lived on the outside of town. We would bike 2+ miles to the drugstore for candy. I felt I could go anywhere and see anything on my bike
As a mom of a thirteen year old, I found it important to share that excitement with my daughter. As soon as she could fit on a bike, we set out on adventures through town. Unfortunately, there were very few places I felt were safe for her to ride. We mostly rode on the sidewalk. On bike to school day, I was afraid for her to ride by herself, especially crossing a busy street. I wished there were better and safer areas for her to ride, including a safe way to school.
We live close to 76th Street, and were extremely pleased when it was redone. We use the bike lanes and the shared use trail all the time.
Now I am helping to get more bike friendly streets in Richfield. I don't want to feel like we have to go to Minneapolis to find safe places to ride. I want my daughter and her friends to find their sense of freedom that I had as a kid.